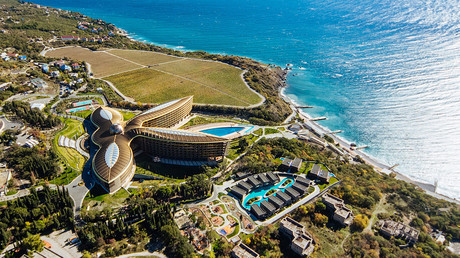 The latest US sanctions against Russia have hit four Crimean hotels, including Mriya Resort & Spa that is ranked as the world's best holiday hotel and resort by the prestigious World Travel Awards. Read Full Article at RT.com...
By: RT - Daily news - 7 days ago
Related Posts
New in Last 10 Minutes
Century-old hotel in outback Queensland destroyed by fire Canberra Times (Today) - The Grand Hotel, built in 1910, was described as the earliest surviving hotel in the town of Hughenden until it was destroyed by fire on Friday night....
Older News
Russian spies 'infiltrated company that processes British visa applications' Daily Mail Online (Today) - An investigation aims to show how two suspected Russian military intelligence agents, charged with poisoning a former Russian spy in the English city of Salisbury, obtained British visas....
Kremlin 'disgusted' by crime boss' crab & caviar snacks in Russian high-security prison RT - Daily news (Today) - Revelations that a brutal Russian gang lord, convicted of organizing murders and extortion, turned his prison cell into a hotel room with cellphone, delicacies and parties, are "outrageous," the presidential...
Russian-Cuban Agreement On Visa Regime Facilitation To Take Effect On Dec. 21 Leadership Newspapers (Today) - The Russian-Cuban agreement on visa regime facilitation, under which the visa-free stay will be extended for up to 90 days, will come into force on Dec. 2. The Russian Foreign...
Russian army: Nearly 270,000 Syrian refugees returned home Miami Herald (Today) - The Russian military says nearly 270,000 Syrian refugees have returned home to their country in recent months. Col. Gen. Mikhail Mizintsev of the Russian Defense Ministry told reporters on Friday...
China siasat hotel mewah didakwa kotor Free Malaysia Today (Today) - Beberapa hotel memohon maaf selepas gambar yang dirakamkan di beberapa hotel mewah menunjukkan gelas, sinki, cermin, tuala dan span tidak bersih....
Luxury hotel built in former pit mine to open in China Miami Herald (Today) - A luxury hotel opening outside Shanghai is offering guests with deep pockets the chance of a very deep sleep. The 18-story Intercontinental Shanghai Wonderland Hotel has been built into the...
Walmart and Target embrace in-store mobile checkout for the holidays TechCrunch (Yesterday) - Two of the U.S.'s largest brick-and-mortar retailers, Walmart and Target, are launching new mobile checkout systems in their stores to accommodate the influx of shoppers expected during the 2018 holiday...
Displaced residents of 650 Parliament 'shocked' over unexpected hotel bills Global News (Yesterday) - Some residents who were left with a home after a fire tore through their building now say management isn't keeping their word by covering the hotel costs....
Hotel secrets: Insider tips for lower prices and better service USA TODAY (Yesterday) - Knowing who owns the hotel, minding the mandatory fees, and knowing where to book can save you a lot of holiday hassles.       ...