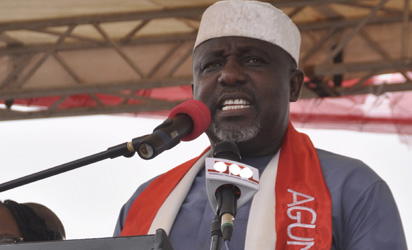 The Chairman, Imo Chapter of Nigerian Association of the blind, Mr Christopher Kalu, has urged Gov. Rochas Okorocha to fulfil the promises he made to visually impaired persons in the state.

The post Visually impaired persons to Okorocha: Fulfill your promises to us appeared first on Vanguard News....
By: Vanguard - Monday, 12 March
Related Posts
Older News
I will not disrespect Archbishop Obinna – Uche Nwosu, Okorocha son-in-law Vanguard (Today) - Governor Rochas Okorocha, son in-law, Mr. Uche Nwosu, yesterday, at the Assumpta Cathedral Church, said men of God should be respected. The post I will not disrespect Archbishop Obinna –...
I'm not desperate to become Imo gov –Nwosu, Okorocha's chief of staff The Punch (Yesterday) - Uche Nwosu, the Chief of Staff to Imo State governor, Rochas Okorocha, has indicated his interest in succeeding his boss as the next governor of the state. But because of...
Imo state needs 20 universities, Okorocha tells Lazarus Muoka Vanguard (Yesterday) - The Imo State Governor, Owelle Rochas Okorocha has said that the State needs not less than 20 Universities to take care of the teeming population of qualified JAMB applicants from...
Herdsmen kill 3 persons in Plateau The Sun News (Yesterday) - Gyang Bere, Jos No fewer than three persons were killed when gunmen suspected to be Fulani herdsmen laid ambushed on villagers in Dong community of Jos North Local Government Area...
NCAC Creates Job For Over 372 Persons Leadership Newspapers (Yesterday) - The National Council for Arts and Culture (NCAC) has created jobs for over 372 persons through various skills acquisition programme as a component of 2017 AFAC Expo activities to add...
Dapchi Girls: Buhari has shown strong leadership— Okorocha Vanguard (2 days ago) - IMO State governor, Rochas Okorocha, yesterday, described the release of over 100 abducted Dapchi school girls in Yobe State by Boko Haram as a sign of strong leadership under President...
We need study materials, security – Pupils of FCT School for the Blind The Punch (2 days ago) - Some pupils at the School for the Blind, Abuja, share their experiences with OLALEYE ALUKO Honest Oyama, 19, and his younger siblings, Salvation and Prospect, are visually impaired pupils of...
Dapchi girls' release shows Buhari's political will – Okorocha The Sun News (2 days ago) - Stanley Uzoaru, Owerri Governor Rochas Okorocha of Imo State has ascribed the quick release of the 105 Dapchi girls abducted by the Book Haram sect to display of political will...
Visually impaired chef serves up Haitian Créole food at Kwizinn Montreal Gazette (2 days ago) - Kwizinn is Créole for cuisine and the name of a family-run restaurant in Montreal....
Algae Leads to 'Impaired' Designation for Western Lake Erie U.S. News (2 days ago) - Ohio says for the first time it's declaring western Lake Erie impaired by the toxic algae that has fouled drinking water in recent years....