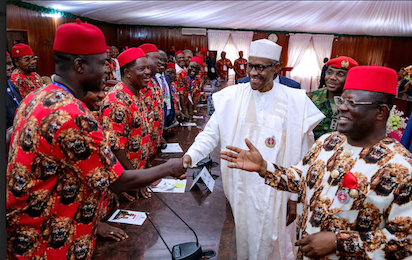 A PDP chieftain and immediate past Speaker of Abia State House of Assembly, Rt. Hon. Martins Azubuike said that the shortest route to producing the much talked about Nigerian President of Igbo extraction in 2023 is to support President Muhammadu Buhari's second term project.

The post Vote Buhari to get presidency 2023, PDP chieftain tells Ndigbo appeared first on Vanguard News....
By: Vanguard - 7 days ago
Related Posts
Older News
Enugu LG Polls: PDP denies alleged attack on APC chieftain Vanguard (Today) - ENUGU—THE leaders of the Peoples Democratic Party, PDP, in Igbo Eze South Local Government Area of Enugu State, have denied the allegation by the state Chairman of the All Progressives...
Minority Goes Red Over ¢1.9bn Allocation To The Presidency Modern Ghana (Today) - The Minority in Parliament is mulling over what it says is the unprecedented cent;1.9 billion budgetary allocation to the presidency in the 2018 budget. The Minority spokesperson on Finance, Cassiel...
Except Buhari, Nobody can defeat me in Presidential race – Okorocha Vanguard (Today) - By Chinonso Alozie, Owerri Imo state Governor, Rochas Okorocha, said Tuesday, that except for President Mohammadu Buhari, he can defeat any other person in a presidential race.The post Except Buhari,...
Most Nigerian govs back Buhari for second term – Okorocha The Sun News (Today) -   Governor Rochas Okorocha of Imo State has said that most governors in the country, including all the South-East Governors, are supporting President Muhammadu Buhari for second term whether in...
News24.com | LIVE: MDC will vote with ZANU-PF to remove Mugabe #Zimbabwe News24 (Today) - Zimbabwe's ruling Zanu-PF is set to begin moves to impeach President Robert Mugabe, 93, with an official saying that a motion to strip the nonagenarian of the presidency would be...
Buhari congratulates Gov. Willie Obiano on re-election The Sun News (Today) - From: Juliana Taiwo-Obalonye, Abuja President Muhammadu Buhari has congratulated Governor Willie Obiano of All Progressive Grand Alliance (APGA) who was declared winner of the November 18 gubernatorial election in Anambra...
Buhari congratulates Obiano, promises Nigerians credible elections The Punch (Today) - Olalekan Adetayo, Abuja Ahead of the 2019 general elections, President Muhammadu Buhari on Tuesday promised to give Nigeria free and fair elections, no matter which way the results swing. Buhari...
5m pupils get free meal in 19 states — Presidency Vanguard (Today) - THE Presidency, yesterday, stated that over five million pupils in 28,249 schools in 19 states of the federation were currently being fed under the government's National Homegrown School Feeding, NHGSF,...
I'm under serious pressure — Buhari Vanguard (Yesterday) - AS Nigeria hosts International Civil Aviation Organisation, ICAO, President Muhammadu Buhari, yesterday, said he was under serious pressure from Nigerians to establish a national airline.The post I'm under serious pressure...
Buhari's Tall Ranking On Terror War Leadership Newspapers (Yesterday) - By Okanga Agila Without mincing words, I do like to confess publicly that I am one Nigerian who believes in President Muhammedu Buhari. I am not his partisan adherent, but...