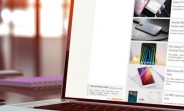 Despite hosting the Consumer Electronics Show in Las Vegas, the second week of 2018 didn't bring a lot of phone-related action. The biggest story from CES was Synaptics' under-the-screen fingerprint scanner which vivo showcased on a prototype phone, which we handled. It's a solid start, but it's not yet fast enough to compare with current scanners on current phones.

Our most read article this past week concerned the Galaxy S9 and S9+ storage and RAM configurations. The S9 will have 4GB of RAM and either 64GB or 128GB of storage while...
By: GSMArena.com - 3 days ago
Related Posts
New In Last Hour
New update hitting Sony Xperia XZ, XZs and X Performance GSMArena.com (Today) - Sony has started pushing out a new update to Xperia XZ, XZs and X Performance smartphones. It's basically a security update that moves the build number to 41.3.A.2.24, and includes...
Older News
Samsung unveils Galaxy Note8 PyeongChang 2018 Limited Edition GSMArena.com (Today) - The 2018 Winter Olympics is taking place in PyeongChang, South Korea between February 9 and February 25. Samsung, as one of the main sponsors of the Games, will give more...
Missing Galaxy S9 Details Suddenly Leaked Forbes (Today) - Samsung's last Galaxy S9 surprises have leaked......
Samsung's Galaxy S9 may release as early as March — here's everything we know about the phone so far Business Insider (Today) - The most important things to know about the Samsung Galaxy S9 before its rumored launch in March....
Sony adds 'Monster Hunter' and white PS4 Pro options this month Engadget (Today) - Sony has released two new versions of the PS4 Pro that will be available exclusively at GameStop this month. The consoles are the Limited Edition Monster Hunter PS4 Pro Bundle...
Samsung's Galaxy S9 could be in your hands by mid-March Mashable (Today) - Details on Samsung's Galaxy S9 are starting to crystallize. At CES 2018 Samsung's mobile chief DJ Koh confirmed the company's next flagship Android phone will be announced at next month's Mobile...
Tension in Ile Ife As Police Arrest Man For Stealing Laptops, Phones Osun Defender (Today) - By Sodiq Lawal There was a little pandemonium on Tuesday afternoon at the ever busy Mayfair road in Ile Ife, State of Osun as police arrested a 25- year- old...
Samsung Galaxy S9 and S9+ coming on February 26, to ship on March 16 GSMArena.com (Today) - Samsung already confirmed that MWC 2018 would see the unveiling of the next flagship Galaxy S9 and the Galaxy S9+. According to Evan Blass, famous for his leaks on Twitter,...
Samsung Galaxy On7 Prime to be launched on 17 January as an Amazon India exclusive Firstpost (Today) - The samsung Galaxy On7 packs 1.6 GHz, Octa-core, Exynos 7870 processor and comes with 64 GB internal storage. The internal storage can be expanded to 256 GB. The post Samsung...
Samsung Galaxy S9, Galaxy S9+ details leaked, to pack same battery size as Galaxy S8 DNA India (Today) - Samsung Galaxy S9 and Galaxy S9+ are rumoured to make an appearance during the Mobile World Congress 2018 in Barcelona next month. But, a few weeks before the official launch,...