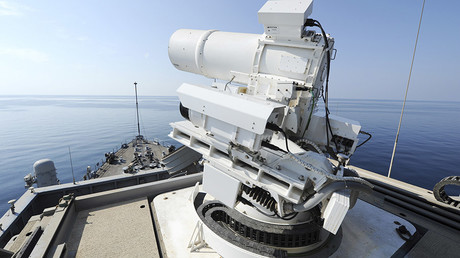 A newly built US amphibious warship will test out new laser weapon technology as early as this coming fall, replacing an earlier tested $40 million laser.

Read Full Article at RT.com...
By: RT - Daily news - Friday, 12 January
Related Posts
Older News
Forbes: Here's why we can't buy our warships from foreign companies Ottawa Citizen (Yesterday) - It is so simple, according to some: Just go out to your foreign new warship dealer and buy the warship of your dreams for billions less than you can build...
What is it like to fly an F-35 fighter jet? Sky News (Yesterday) - It is no surprise that Squadron Leader Andy Edgell, the test pilot for the new F-35 fighter jets being bought by the RAF and Royal Navy, says the computer game...
The US Navy's much criticized Littoral Combat Ships will be armed with Hellfire missiles by 2020 Business Insider (Yesterday) - Integrating the HELLFIRE onto the LCS is a significant strategic and tactical step for the Navy....
Navy Destroy 712 Illegal Refining Units In Seven Months Osun Defender (Yesterday) - The outgoing Flag Officer Commanding (FOC), Central Naval Command, Rear Adm. Abubakar Al-Hassan, revealed that the Command had destroyed over 712 illegal refining units in the last seven months. Al-Hassan...
US Navy says it received Iran broadcast about naval exercise Miami Herald (Yesterday) - The U.S. Navy says it only received a radio message from Iranian naval vessels about an ongoing Iranian exercise in the Strait of Hormuz, countering Tehran claims of a tense...
Navy Earmarks N2bn for Personnel Welfare in 2018 Budget Leadership Newspapers (2 days ago) - Chief of Naval Staff, Vice Admiral Ibok-Ete Ekwe Ibas, has said that about N2 billion was earmarked for personnel welfare in the proposed 2018 budget while N2.2billion was proposed for...
Waiting for spring? New US warship trapped in icy Montreal waterway RT - Daily news (2 days ago) - The Canadian climate is apparently too harsh for the US Navy, as one of its state-of-the-art vessels found itself trapped in ice in the Port of Montreal and may spend...
Newly commissioned U.S. combat ship stuck in Montreal due to icy conditions Global News (3 days ago) - A newly commissioned Navy warship will be wintering in Montreal after its journey to Florida was interrupted by cold and ice....
China vows action after US warship sails near South China Sea island The Guardian (4 days ago) - Beijing claims passage of destroyer USS Hopper in disputed water violates sovereignty but Pentagon says operations are routineChina has vowed to take "necessary measures" to protect its sovereignty after a...
China says U.S. warship violated its South China Sea sovereignty Reuters (4 days ago) - SHANGHAI (Reuters) - A U.S. Navy destroyer sailed near a disputed shoal claimed by China in the South China Sea this week, U.S. officials said on Saturday, and Beijing vowed...