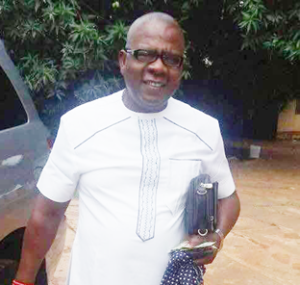 Nwoye has the vision of a better Anambra more than all the other candidates all of who are far better than the incumbent. He has lived with us here and the only times he has been out is going to Abuja to represent his constitutency in the House of Representatives. So he knows the pains and the pressures on our people. You see the way he connects with the populace, he speaks the common language of the people, he understands their pains.

The post Why Anambarians want Nwoye — Arinze appeared...
By: Vanguard - Tuesday, 14 November
Related Posts
Older News
Anambra guber: I won't challenge Obiano's victory, says Nwoye The Sun News (2 days ago) - •APGA'll take over 8 states –National chairman From Geoffrey Anyanwu, Awka and Aloysius Attah, Onitsha Governorship candidate of the All Progressives Congress (APC) in last Saturday's election in Anambra State,...
Hurricane Obiano Crushes Nwoye, Obaze, 36 Others And Other Interesting Newspaper Headlines Today Osun Defender (2 days ago) - Daily Sun had the most dramatic headline in a bid to describe the election result in Anambra. It was revealed that the Independent National Electoral Commission (INEC) has declared Governor...
APGA Forum advises Obaze, Nwoye to accept defeat, congratulate Obiano Vanguard (2 days ago) - The National Coordinator APGA Media Warriors Forum, Evang Chinedu Obigwe, Monday advised Oseloka Obaze of the Peoples Democratic Party, PDP and Tony Nwoye of All Progressives Congress, APC, two major...
Anambra guber: Jubilation as Obiano trounces Nwoye, Obaze, Chidoka The Sun News (3 days ago) - From Chidi Nnadi, Geoffrey Anyanwu and Jeff Amechi Agbodo, Anambra The Independent National Electoral Commission  (INEC) has declared Governor Willie Obiano winner of the Anambra governorship election held on Saturday,...