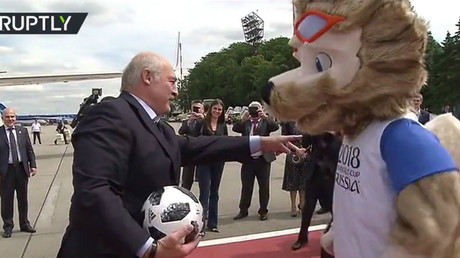 President of Belarus Aleksandr Lukashenko has demonstrated his football skills by scoring a goal against World Cup mascot Zabivaka, who met the top official in the airport upon his arrival in Russia. Read Full Article at RT.com...
By: RT - Daily news - 5 days ago
Related Posts
New In Last 40 minutes
Russia vs. Egypt: World Cup 2018 Live - New York Times Google News Australia (Today) - New York TimesRussia vs. Egypt: World Cup 2018 LiveNew York Times... • Russia scored its third goal just 16 minutes into the second half after coming out of halftime at...
Older News
How the World Cup leaves fans and footballers vulnerable to cyber attacks The Next Web (Today) - Visitors to the 2018 World Cup in Russia will be eager to enjoy the football and soak up the culture. But safety concerns are lurking in the background of this...
Tunisia Vs England : Kane declares his arrival Vanguard (Today) - England captain Harry Kane declared his arrival on soccer's biggest stage when he scored twice, including a stoppage-time winner, in a dramatic 2-1 victory over Tunisia as his team launched...
Pinnick confident…says Eagles'll bounce back The Punch (Yesterday) - The President, Nigeria Football Federation, Amaju Pinnick, on Monday said that the Super Eagles still had chance to progress to the knockout stage of the Russia 2018 FIFA World Cup....
Is Nigeria's Goalkeeper The 'Oldest 19-Year-Old'? Be The Judge Modern Ghana (Yesterday) - Nigeria rsquo;s goalkeeper at the ongoing Fifa World Cup in Russia, Francis Odinaka Uzoho, has become the button jokes on social media for his lsquo;young rsquo; age. Football fans trolled...
BREAKING NEWS: Kudjoe Fianoo Withdraws From IMC To Reform Ghana Football Modern Ghana (Yesterday) - President of the Ghana League Clubs Association, Kudjoe Fianoo has withdrawn from the five-member Interim Management Committee set up by the government to reform football following steps to dissolve the...
Interest in football soars across Russia after national team's record victory – survey RT - Daily news (Yesterday) - Interest in football amongst Russians has soared after the national team beat Saudi Arabia 5-0 in the first game of the 2018 World Cup, new research has shown. Read Full...
Russia, football World Cup and rising homophobia Al Jazeera (Yesterday) - LGBT football fans going to Russia receive threats, as groups voice concern over increase in anti-gay chants in country....
"Lawyer Do Nothing," Get Out Of Nyantakyi's Pocket Modern Ghana (2 days ago) - ldquo;Do you want to know who you are? Don rsquo;t ask . Act Action will delineate and define you rdquo; ndash; Peter Jefferson President John Evans Attah Mills was returning...
Score one for Father's Day: Carey Price on being a dad Toronto Sun (2 days ago) - Parenthood – priceless! Montreal Canadiens goalie Carey Price handles being a father like he handles the puck – with passion and pride. Price loves being dad to Liv, 2, and...