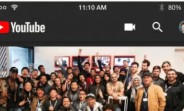 YouTube's Dark Theme feature has officially started rolling out to users on Apple's iOS platform. Team YouTube took to Twitter to make this announcement yesterday.

It's finally here! ...
By: GSMArena.com - 6 days ago
Related Posts
Older News
YouTube admits it has a neo-Nazi music problem BBC (Yesterday) - A BBC investigation finds inconsistencies in how YouTube deals with neo-Nazi music tracks which advocate violence....
Jacob Rees-Mogg BLASTS Theresa May for 'ROLLING OVER' without EU 'even tickling our tummy' Express UK (Yesterday) - JACOB Rees-Mogg has hit out at the proposed Brexit transition deal with the EU as "unsatisfactory" and slammed the Government for "rolling over" during a revealing interview on BBC Newsnight....
Report Indicates Ghana's Mobile Phone Subscribers To Hit 40m By 2020 Modern Ghana (Yesterday) - Ghana rsquo;s mobile phone subscription is expected to hit about 40 million in the next two years, according to the Jumia Annual Mobile Report 2018. With such growth rate, it...
Samsung Galaxy S8 and S8+ now receiving Oreo in Canada GSMArena.com (Yesterday) - Following in the footsteps of the US versions, the Galaxy S8 and S8+ in Canada are now in the process of being updated to Android 8.0 Oreo and Samsung Experience...
PlayerUnknown's Battlegrounds is now on mobile in the US The Verge (Yesterday) - PlayerUnknown's Battlegrounds is now available on mobile in the US, on both iOS and Android. The game has already been live in Asia for quite a while and came to...
YouTube is testing picture-in-picture for desktop The Verge (Yesterday) - YouTube is testing a picture-in-picture type function for desktop, as reported by 9to5Google. For those who have it, the test will mimic what's already available on YouTube for Android and...
Who was Bento the Keyboard Cat? YouTube sensation dies and leaves fans heartbroken www.dailystar.co.uk (Yesterday) - BENTO the Keyboard Cat has sadly passed aged nine away after shooting to fame on YouTube for playing electric keyboard in viral videos – but who was the ginger cat...
Android Oreo is rolling out to Galaxy S8 devices on T-Mobile, Sprint, Verizon The Verge (Yesterday) - Samsung has confirmed that it has completed its Android Oreo beta tests and has officially begun sending out the software updates to Galaxy S8 and S8+ devices in the US....
YouTube is testing a picture-in-picture mode on the desktop TechCrunch (Yesterday) - Some YouTube users on the web have been opted in to a test of a new picture-in-picture mode, which allows you to continue watching a YouTube video in a small...
'Bachelorette,' with its high-energy cast, a dark comedy about women behaving badly San Diego News (Yesterday) - Very much to its credit, the raucous black comedy "Bachelorette" is neither cautionary nor apologetic. The best known work in Leslye Headland's play cycle based on the seven deadly sins...