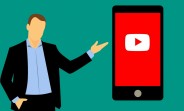 YouTube just launched a Device Report website that lists the best devices for enjoying its videos. The list isn't particularly long but includes all the flagships from the major manufacturers.

The YouTube team claims that every device goes under extensive testing and it's working closely with the OEMs to provide the best possible performance and quality when streaming YouTube videos. The list consists of 18 smartphones from Samsung, LG, OnePlus, HTC, Huawei, Xiaomi, Google and Nokia.

Samsung Galaxy Note9

Samsung Galaxy S9

Samsung Galaxy S9+

Samsung Galaxy Note8

Samsung Galaxy......
By: GSMArena.com - Friday, 10 August
Related Posts
Older News
KSI vs Logan Paul: YouTube fight's pay-per-view and live stream details REVEALED www.dailystar.co.uk (Today) - KSI and Logan Paul will settle their long-running feud when they finally clash in the ring this weekend....
Facebook, YouTube and Twitter may only get one hour to remove extreme content with new European rule CNBC (Today) - Social media sites are likely to have one hour to remove terrorist content in rules being drafted by the European Union, according to the Financial Times....
Facebook, YouTube, and Twitter could face fines if they fail to take down terrorist content within minutes Business Insider (Today) - The EU Commissioner for Security Julian King is drawing up legislation which would force tech companies to take down terrorist content or face fines....
Kuldeep Pai, the Carnatic musician who found an audience on YouTube, talks spirituality, struggles and students Firstpost (Today) - Kuldeep Pai is a popular YouTube Carnatic singer and has uploaded over fifty songs as of now. His channel has nearly six lakh subscribersThe post Kuldeep Pai, the Carnatic musician...
EU draft law would force sites to remove extremist content Engadget (Today) - The European Union is no longer convinced that self-policing is enough to purge online extremist content. The Financial Times has learned that the EU is drafting legislation to force Facebook,...
Madonna shares an extended video of her Met Gala 2018 performance Free Malaysia Today (Yesterday) - The singer who celebrated her 60th birthday on Thursday has shared a 13-minute video showing her full performance at the Met Gala in May 2018, via YouTube....
Meet the new Strictly Come Dancing star who made £3m on YouTube Daily Mail Online (Yesterday) - Joe Sugg, 26, is about to become the first YouTube vlogger to star in BBC1's flagship programme Strictly Come Dancing. He has made millions filming videos and uploading them to...
JoJo Siwa Shows How to Get Her Perfect Side Ponytail - Watch Now! Just Jared Jr. (Yesterday) - JoJo Siwa is showing fans how she always keeps her side ponytail looking perfect! The 15-year-old social media star shared a new tutorial video on her YouTube channel with some...
Dr. Pimple Popper released a 7-minute compilation video with only ear blackheads Business Insider (Yesterday) - Fans of pimple popping really love to watch extractions of ear blackheads. On YouTube, dermatologist Dr. Sandra Lee (a.k.a. Dr. Pimple Popper) released a compilation video showing only ear blackhead...
'Plastic surgery videos on YouTube misleading' The Hindu (Yesterday) - Most are made by unqualified persons...